The History of CMC
September 27, 2018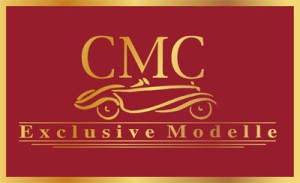 CMC or Classic Model Cars GmbH is one of the top diecast manufacturing companies. It focuses mainly on classic automobile replicas and almost all of them are of the highest quality possible.
The company is founded in the mid 1990s in Germany with its first factory being built in 1998 in China. CMC is a German-Chinese company. The bigger part of the model development is done either in Germany or by German engineers while the building of the models is done entirely in China.
The company is famous for its models that have the highest precision possible with the use of authentic materials and fabrics. It is normal for a model of the company to feature leather or cloth seats for example.
Most of the parts for their models are hand-made and they are all assembled by hand. What's more the company is using hundreds and even thousands of individual parts for each model. Things like rivets, trim and etc. that usually are simply cast with the main body by most manufacturers here are individual pieces added by hand one by one.
The level of craftsmanship is amazing with every model the company releases. Most models feature toolboxes with tiny tools, removable wheels, full framework and suspension, opening panels, doors and etc. Basically you can easily build an entire car if you use its model for reference.
The company focuses in all of the major and popular collector scales: 1:12, 1:18, 1:24 and 1:43. Actually the first ever model the company produced was in 1:24 scale and it was the iconic 1930 Mercedes-Benz SSK. It was built in 1995 and won the Model of The Year award.
CMC is still one of the diecast companies that are privately owned. Its headquarters are in Stuttgart, Germany and it sells its models via its own online shop or via the hobby dealers. Shuxiao Jia and Herbert Nickerl are serving as company director and technical director respectively.
The company tends to release only a handful of models each year but they all are of an amazing quality. Of course this quality comes with a price and often the models cost between €200 and €400 depending on the scale, complexity of the model and production run. Often the models are in limited editions.
It may seem like a bit too steep but once you see a CMC model in person you will know that the price is quite reasonable for the amount of work that goes into each model.