1:24 Maisto Dodge Challenger RT Review
August 1, 2018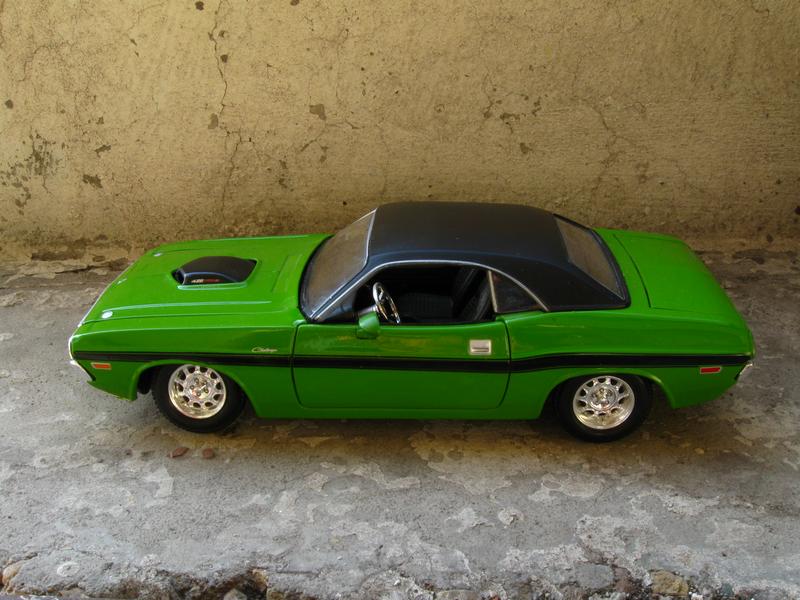 1:24 Maisto Dodge Challenger RT
The 1:24 Maisto Dodge Challenger is a relatively modest model which still does offer some nice details for the price it asks. The model in question is of the 1970 Dodge Challenger RT which is one of the all-time best American Muscle cars.
The real car packs quite a punch thanks to its 383 CID Magnum V8 engine developing 335 hp as standard. But if the owner wanted, the RT (stands for Road/Track) could have been fitted with a 7.2-liter Magnum V8 or a 7.0-liter (426 cu in) Hemi V8 developing 425 hp. It was using a three-speed manual gearbox. There was also an SE model with vinyl roof, leather seats and other small extras.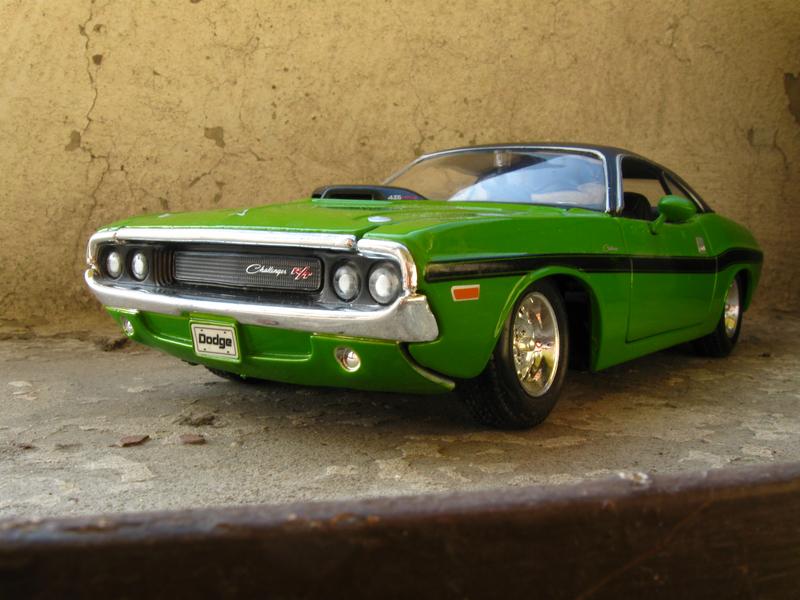 1:24 Maisto Dodge Challenger RT
As a result the car was quite fast. Its 1/4 mile time was only about 13.2 seconds. Pretty impressive not only for 1970. Only about 23 000 R/T models were ever produced (including the convertible, SE and normal versions). Today it is considered a classic.
Thus getting your hands on a decent Challenger RT today can be a bit of a challenge. Happily if you want to add one to your diecast collection, then you are in luck. There are models of the car in several scales with different quality levels and price tags.
If you're collecting 1:24 diecast models then one of your best choices is the Maisto Dodge Challenger RT. It offers decent quality and details for a very low price. Let's take a more detailed look of the model.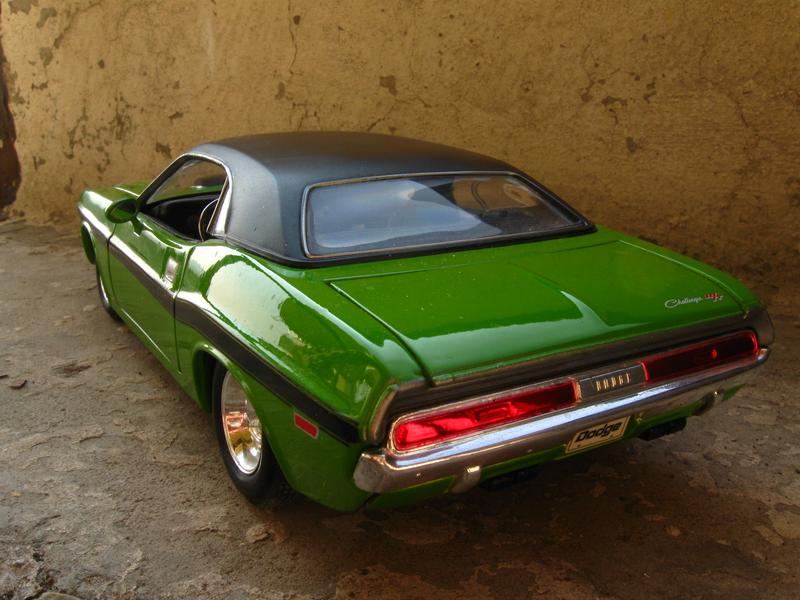 1:24 Maisto Dodge Challenger RT
First we start with the exterior. As a whole it is well modeled, correct to the scale and detailed. The headlights and grill are nicely done as is the bonnet and doors. The panel gaps are quite decent. The roof tries to simulate vinyl but is actually just plastic. Luckily is a sturdy plastic so you can easily handle the model.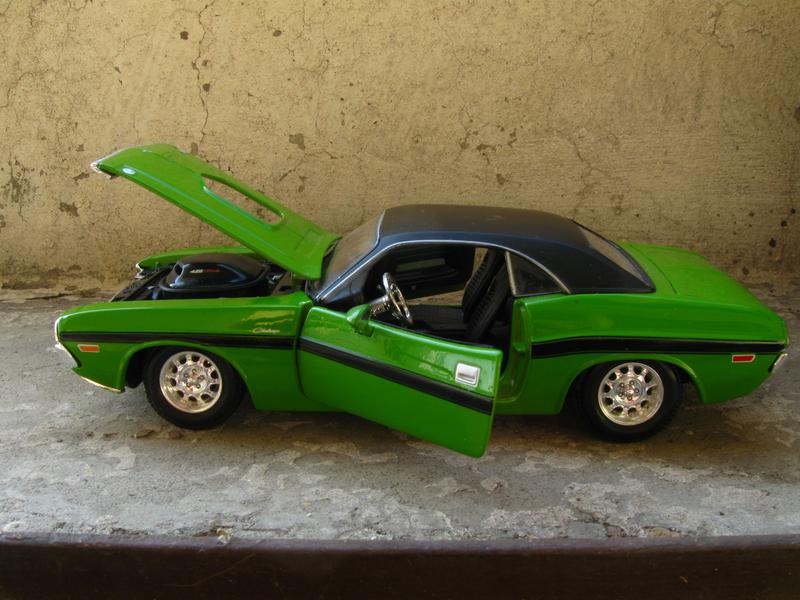 1:24 Maisto Dodge Challenger RT
The taillights are not separate pieces but are just painted on which is a bit of a disappointment. But the good thing is they do look rather convincing. What is actually disappointing and confusing is the fact that Maisto have cut the lid for the trunk but then have riveted it in place. The company has done the same on some other 1:24 American Muscle models and has even added hinges to the lids but then has had them riveted in place which is baffling.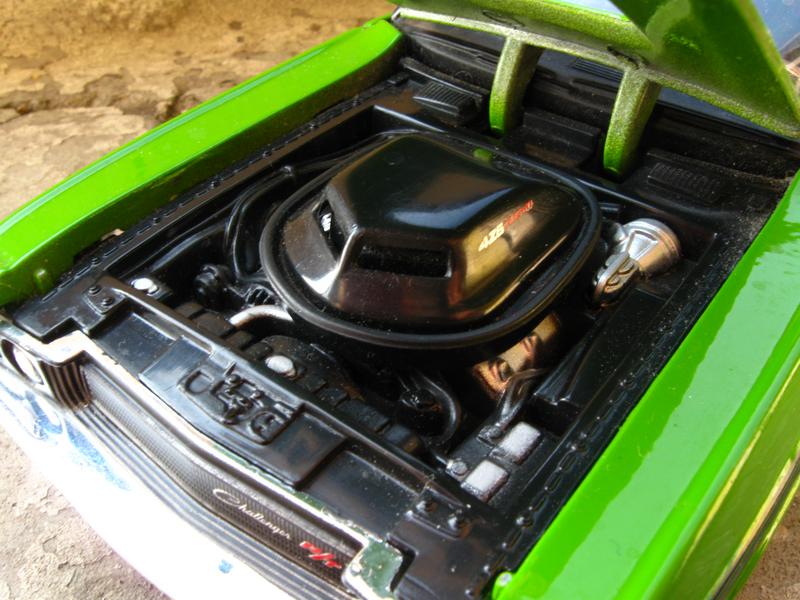 1:24 Maisto Dodge Challenger RT
Moving on to the engine. On the basis it is just a pressed plate. The good thing is that it does have some extra details on it so overall it looks convincing and better than what you would normally find on a 1:24 diecast model. The big air scoop that shows through the bonnet is also a huge plus.
The wheels are sadly are nothing much to brag about. The rims are decent but are too "chromy" for their small size. On my example the front suspension is a bit caved but I gather that it is a rare occurrence.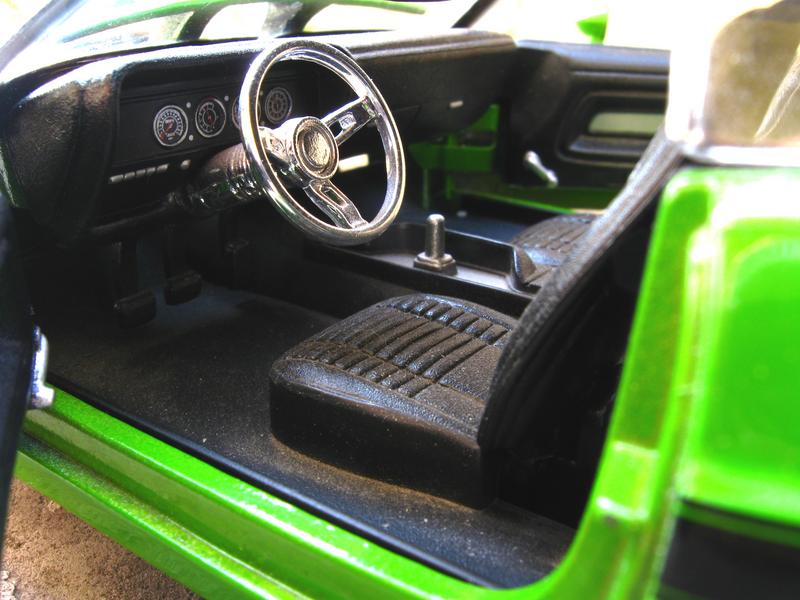 1:24 Maisto Dodge Challenger RT
And now the interior. The doors open on realistic hinges which is a nice treat. They reveal a modest interior with only the basic details The fully chromed steering wheel is a bit of a disappointment as it is not only incorrect as far as the color scheme but it is also fixed in place and doesn't rotate with the wheels. The seats are well modeled though as is the dash.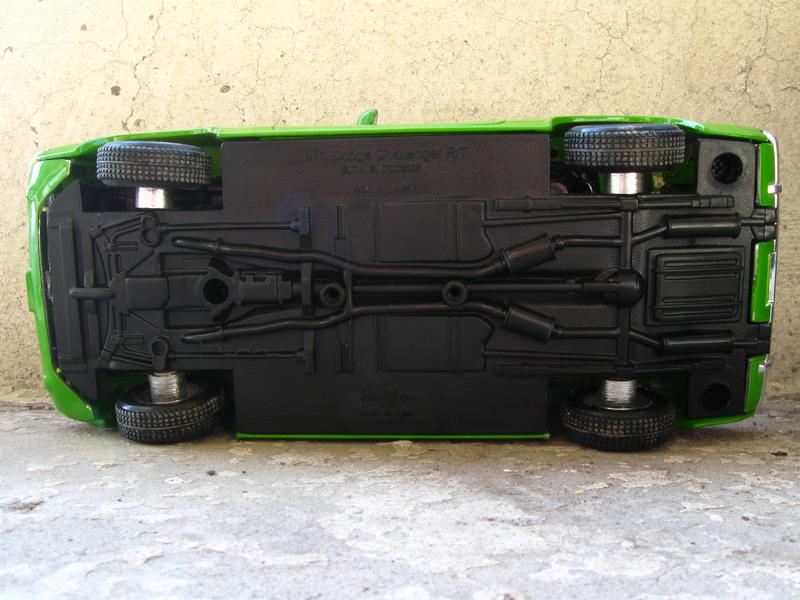 1:24 Maisto Dodge Challenger RT
Underneath Maisto have added some basic details in the form of a pressed plate. Basic parts of the suspension and exhaust system are present but unpainted. Overall typical for a 1:24 model.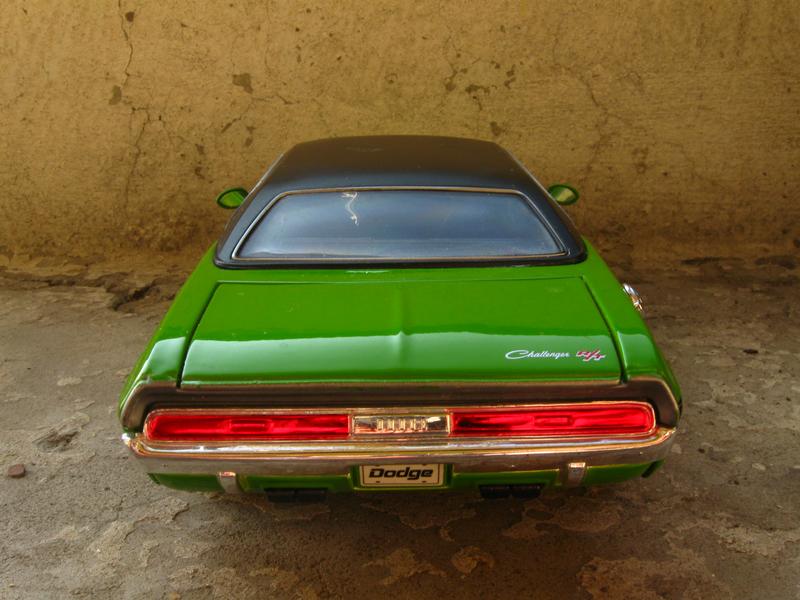 1:24 Maisto Dodge Challenger RT
As a whole the 1:24 Maisto Dodge Challenger RT is a decent model for the scale. It features all the basic details and provides a cheep and cheerful way to enjoy the beauty of the real car. The model won't please quality-oriented collectors but then again the whole 1:24 scale is meant for the more casual and novice collectors anyway.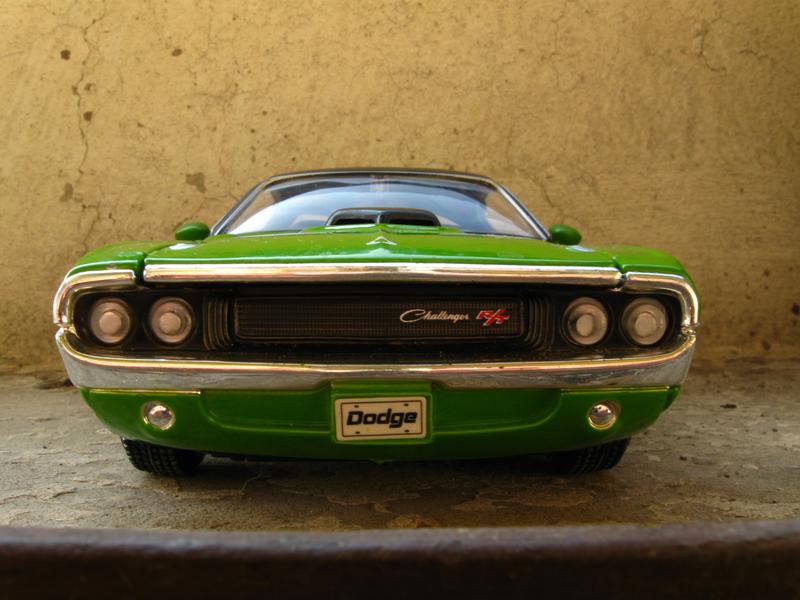 1:24 Maisto Dodge Challenger RT