1:18 MotorMax Chrysler 300C Review
July 20, 2018
The Chrysler 300C is a big 4-dool luxury saloon that rivals the BMW 5-Series, the Audi A6 and the Mercedes E-Class. One of the big selling points of the 300C is the fact that it was much cheaper than its competitors yet it offered nearly the same space and comfort. Plus it could be fitted with a 5.7-liter Hemi V8.
As great as a car the 300C is, it doesn't have much of a representation in the diecast world. There are a few companies that offer models of it usually in the smaller scales. In 1:18 one of the best representations is the MotorMax model. But before we get to it, let's take a quick look at the actual car.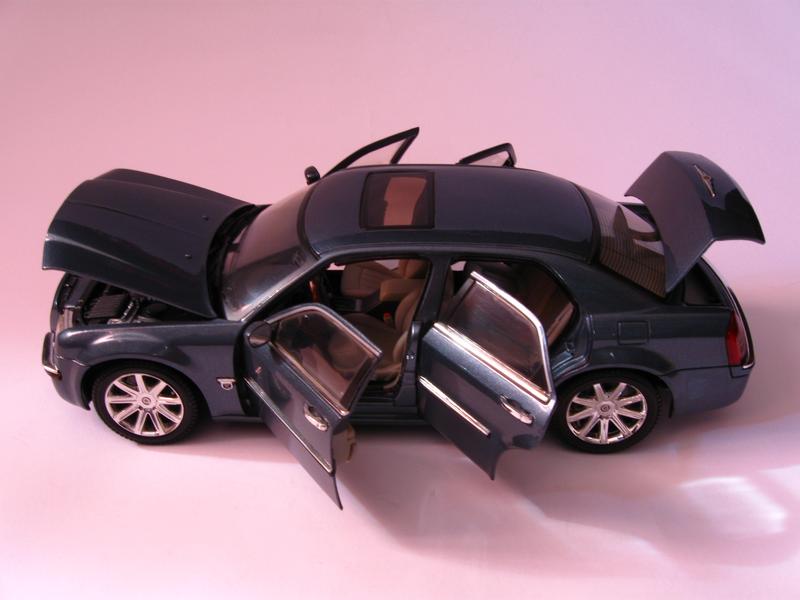 It was launched in 2005 and was based on the Merecdes-Benz E-Class chassis from the period of 1996-2002. It uses a rear wheel drive, 5-speed automatic gearbox and was even available in a 4-wheel drive configuration, again based on Mercedes' 4MATIC system.
The top model had a 5.7-liver Hemi V8 engine instead of a middling 3.5-liter V6 used in the standard models. It was quite a popular car as it's low cost and big power was an attractive combination. It is especially popular for custom works.
Of course you can bring your favorite custom works on your diecast shelf if you have a few models to spare and some patience. But even if you plan to just park your model as-is on the shelf, the MotorMax offer is worth it. And here's why.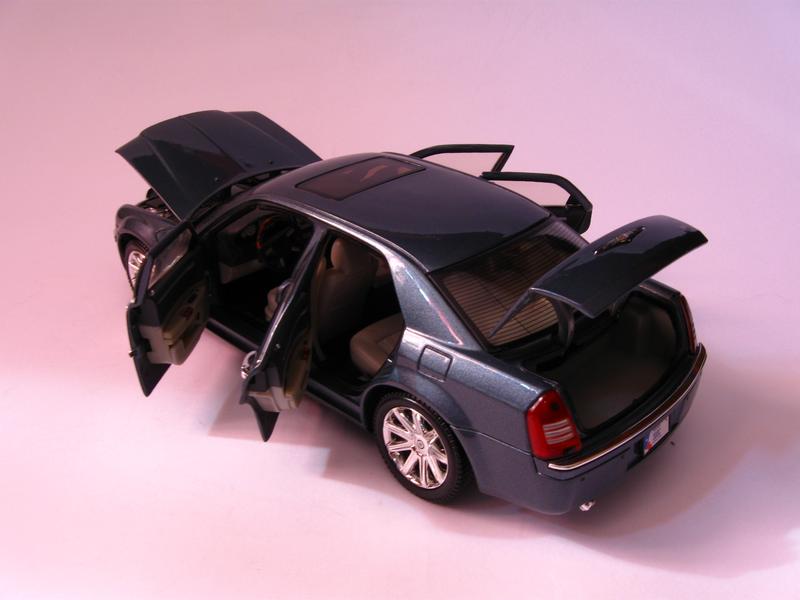 First the exterior. The real car is quite big and happily MotorMax haven't done any tricks with the scale to save money and have scaled the model down perfectly. It is quite big and has an impressive stance.
Let's also not forget that we are talking about a truly budget model here. I got mine for a measly $22 a couple of years ago. Now it is $25 here in some parts of the EU (as of September 2011).
For that you also get all 4 doors to open on realistic hinges. And all of the doors have windows so the interior stays dust free. The trunk and engine bay are also opening albeit on not so realistic hinges.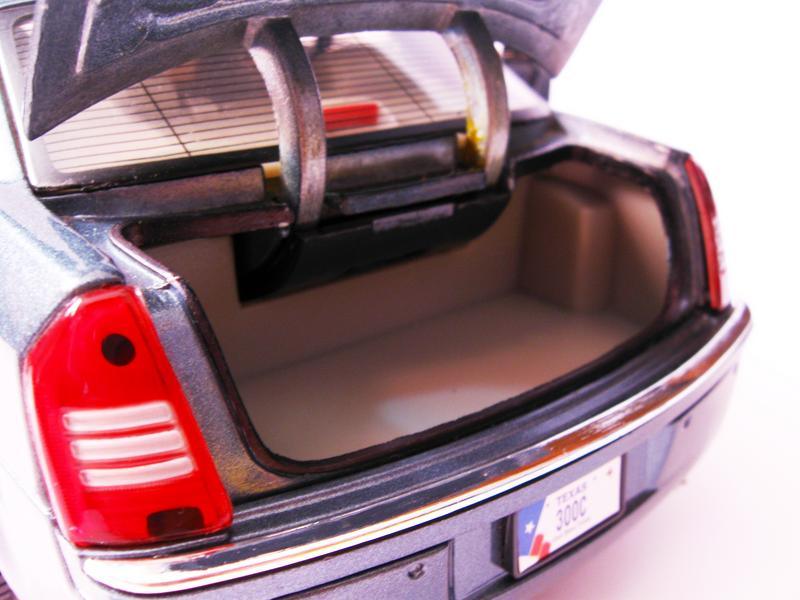 The model features also decent panel gaps (they could be better though), a sunroof (not opening sadly) and a spring mounted independent suspension on all 4 wheels. The wheels in question are pretty big and MotorMax have correctly made the front ones one size smaller than the rear ones. The real Chrysler 300C uses slightly bigger rear wheels than the front ones.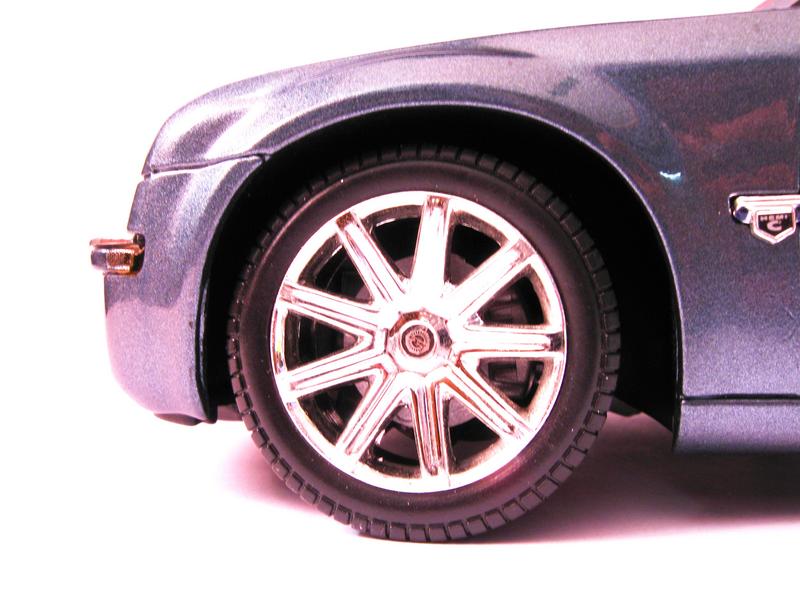 The wheels themselves are well made but too "chromy" maybe MotorMax should've used a less glossy paint. Behind the wheels there are modest brake calipers and even more modest brake disks. But those are brake discs that rotate behind the calipers. And yes, we are still talking about the same budget model.
Of course not everything on the outside is that good. Take the headlights for instance. They are correctly sized and modeled but use visible mounting stubs instead of bulbs. It looks fine from the front but if you turn the model slightly and the illusion is spoiled. The rear lights are also a bit too plain but they look OK if you don't gauge into too much detail.
The trunk is nothing to brag about either. But it is there and is reasonably well modeled which is enough especially for a budget model. Note: I've added the black "rubber" line around the trunk lip, not MotorMax.
The engine bay does offer something to look at though. A part of the engine as well as some other bits and bobs are visible. Nothing too major, but it is enough.
I'm also not very sure about the front grille. It is well made but it seems a bit too big. Maybe it is because of the real car though. And exactly why many 300C owners change the grill with a smaller mesh.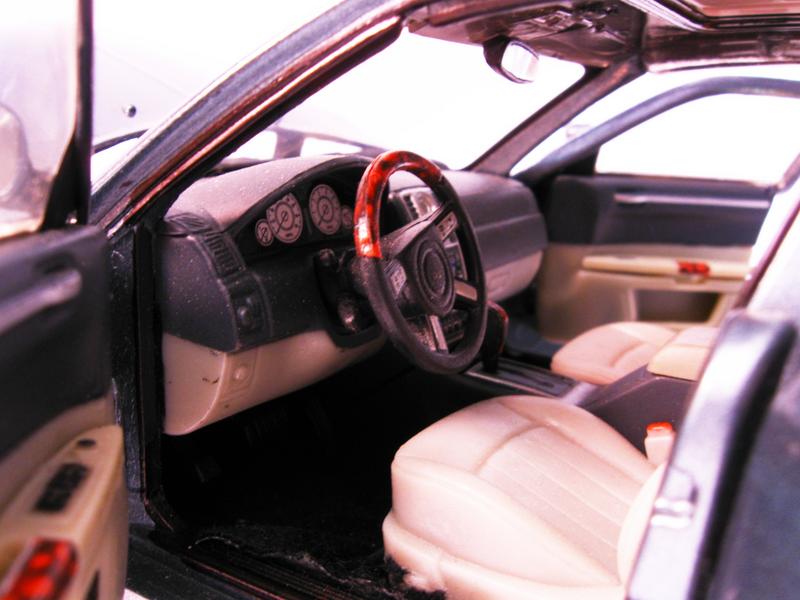 Onto the interior. Now things get really interesting. Apart from the dull grills it is one of the best interiors a budget could have. Nice, well modeled seats, great steering wheel, well detailed center console and dashboard. Even the door panels are well modeled and are made from several pieces. Note: The carpet is not originally fitted to the model. It's a small modification I did after I bought it. Originally there is bare plastic there.
One minus is the lack of roof lining, something the MotorMax BMW 7-Series has.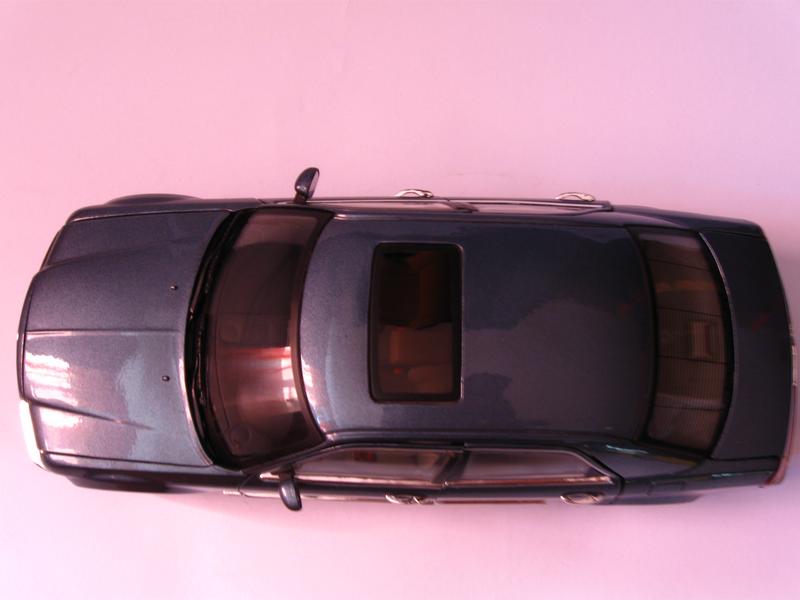 All of the seats have seatbelts as well. They are rubber, not cloth but they are there.
Underneath there is not much to look at. But that is not MotorMax's fault. It is just that Chrysler have covered most of the underside of the car with panels as with many modern day vehicles. MotorMax have taken what's available though and have done a pretty nice job.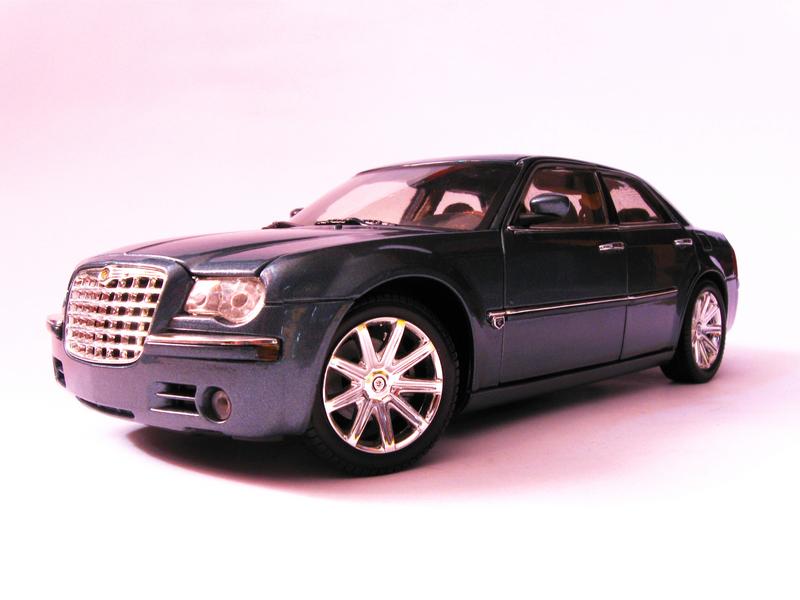 Overall the MotorMax Chrysler 300C is one very deserving model. Even though it is in the budget class it doesn't try to look or feel like a budget model. It has features and details that are present in the medium and even premium range. Sure there are a few things that could be better, like the paint or panel gaps, but for $25? It'll be quite a challenge to find something better. Maybe the MotorMax BMW 7-Series comes to mind…
Thank you for your visit!